The search engine directly labels the true or false news, and the fake news can't go on
chinatopwin chinatopwin 2017-09-18 11:36:28
Over the past one or two years, the world faces "an eventful year", took the opportunity to spread 
false news network, the formation of interference on the U.S. presidential election and other major 
events, the Internet industry has set off against false news climax. According to foreign media 
news, Google, Bing and other search engines, has launched a new business card function and 
the smell, marked directly in the search results, false news of the living space is further 
suppressed.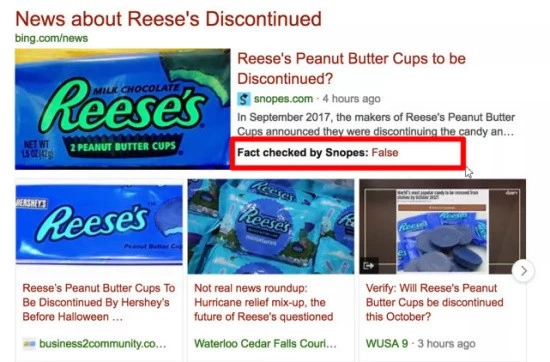 In the attack on the network false news, both Google and Facebook has become a target for 
all, the automatic aggregation algorithm referred to recommend the false news there are 
significant deviations, confusing the public opinion audio-visual, and even affect the results 
of the American presidential election. The people from the Google search to the junk news ", 
and even the existence of false statistical data election.
Recently, Microsoft's Bing search also introduced features to verify news content, according 
to TheVerge, an American science and technology news website, which has been launched 
by Google
The search engine service providers will not be personally recruited editing staff review every 
piece of content on news sites, they tend to third party organizations for cooperation, to
 invite them to the specific field of news and content of facts. For example, Bing search and 
Snopes, PolitFact and other institutions for cooperation.
Directly in the news and web search results marked a "true", to avoid the user clicks on the 
link or read low quality content.
In fact, after the false news is often the emergence of new low awareness of the website, 
but Google, Bing and other search engines have not yet taken completely blocked the 
mode of the website, but the search results were tagged and verified.
After the false news network storm, the traditional well-known media value again get 
attention. Such as Facebook, apple, Snapchat launched the news aggregation service, 
often directly and well-known media content licensing cooperation, manufacturers do not 
automatically crawl through the algorithm in the network, to avoid low quality content and 
false news "fish in troubled waters."
In addition, Facebook, Google and other large companies ready to launch news subscription 
service, allowing authoritative media to get more income returns, encourage them to launch 
high-quality content